WHAT IS WINDOW TINTING?
Window tinting refers to the process of applying a thin laminate polyester coating film to a vehicle's glass. The reasons people choose to tint the windows of a vehicle vary. These might include privacy or security; protection from UV rays including UVA, the ones responsible for causing skin cancer; and reducing solar gain (interior heat) and thus incrementally improving fuel economy; and cutting down on glare from the sun. Of course, there are purely aesthetic reasons as well for applying car window tint. It doesn't hurt that some people think that tinted vehicle windows look sleek and expensive, raising the overall perception of your car, truck or boat.
Protect Your Vehicle and the People In It with Madico® Window Film from ProShield Glass Tinting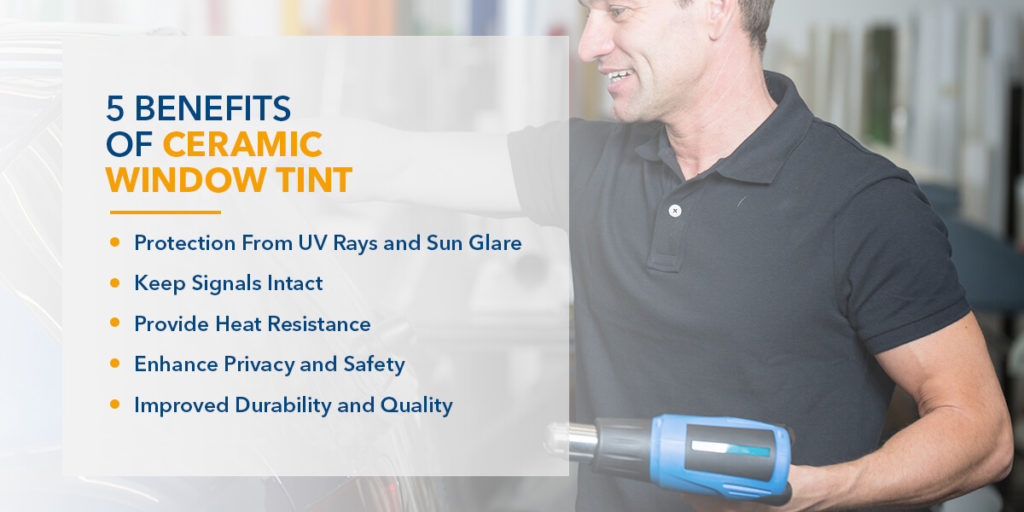 CERAMIC TINTS
Ceramic window tint is a type of window film used in oxide and nitrate coatings. An installer will conduct a process within a sputtering chamber that combines negative electrical charges and argon gas with nitrogen or oxygen. Through these gases, the coating retains a metal appearance but is less reflective than a metallized coating.
After this process, the material itself is no longer metal, carbon or dye, but instead has nonconductive particles. While ceramic tints have some of the same uses as regular window film, the ceramic particles allow for many extra benefits.
HIGH PERFORMANCE TINTS
High Performance automotive tint is a high-performance film that will improve your driving experience.
Color-stable
Metallized film
Soft, neutral appearance
Reduces glare
Provides over 99% UV protection
Offered in a variety of shades
High Performance film blends sophisticated style with superior performance to accent the look of any car.
UV Protection
Nearly 53% of skin cancers occur on the driver's side of the body. Our window tint blocks 99% of the sun's damaging UV rays, protecting your skin.
Temperature Control
Do you blast the AC to cool off from the summer heat? Window tinting can help reduce fuel consumption and help keep a comfortable environment within the car.
Reduce Dangerous Glare
Sun glare is the second leading natural cause of accidents. Window tinting effectively reduces it and helps with eye strain and fatigue.
Fade Protection
Whether you have leather or cloth seats, the sun can affect the color of the material over the years. If you think you'll sell your car one day, this can protect the resale value. 
Privacy & Security
If you have  valuables in your vehicle, or want to hang out in your car without passersby being able to see inside, window tinting can help increase the feeling of privacy.
Hold Shattered Glass
In the event of an accident or an object hitting your windshield, our window film can help hold shattered glass together, keeping you safer.
IS WINDOW TINTING LEGAL?
The percent of visible light allowed through your car windows is called VLT: Visible Light Transmission. The percentage of light allowed through your film and glass in Connecticut is very specific and different for sedan cars and SUV cars or vans.
Tint darkness for sedans: Windshield: Non-reflective tint is allowed above the manufacturer's AS-1 line.
Front Side windows: Must allow more than 35% of light in.
Back Side windows: Must allow more than 35% of light in.
Rear Window: Any darkness can be used.
GALLERIES
Click on the images below to see examples of our work.
COMMERCIAL VEHICLE GALLERY
Location
49 Birch Street
Southington, Connecticut
Hours by Appointment
Mon:8am - 6pm
Tue: 8am - 6pm
Wed: 8am - 6pm
Thur: 8am - 6pm
Fri: 8am - 6pm
Sat: 8am - 1pm
Sun: 8am - 2pm